Ref:
Date:
Location:
Photographer:
Ref:
Date:
Location:
Photographer:
Trail Venues
Here is a list of venues which form the Bafa Art Trail
The Bafa Art Trail provides a free Art Exhibition around the town of Buckingham all year. Started in 2008, Bafa members display and sell a huge variety of art subjects and mediums.
If you download the printable map from our MAP page it includes a list of all these venues and their details.
Binn Smokehouse
14 Market Hill MK18 1JX
www.binnsmokehouse.co.uk
12-11pm Mon-Thu 12-1am Fri-Sat
Closed Sun
The Woolpack Public House
Well St MK18 1EP
www.woolpackbuckingham.co.uk.
11am-11pm Mon-Thu 11am-midnight Fri & Sat Noon-10.30pm Sun
Riverside pub, serves food, large garden and function room.
The Garage Restaurant & Wine Bar
3 Well St MK18 1EW
www.wellstgarage.co.uk
Noon-11pm Mon-Sat Noon-7pm Sun
Body Matters Beauty
6 Well St MK18 1EW
www.bodymattersbeauty.co.uk
9am-9pm Tue, Wed 9am-7pm Thu 9am-6pm Mon, Fri & Sat 10am-4pm Sun
University Library
Hunter St MK18 1EG
www.buckingham.ac.uk/life/library
To view ring 01280 820 218
The Dragon Gallery
19A Market Hill MK18 1JX
Requires climbing steep narrow staircase
9.30am-4.45pm Mon-Sat Closed Wed
Louis' Restaurant
53 Nelson St MK18 1BT
www.louisatnelsonstreet.co.uk
12-11pm Tue-Thu 12pm-12am Fri-Sat Closed Sun-Mon
Russell & Butler Estate Agents
1 West St MK18 1HL
www.russellandbutler.com
8.30am-6pm Daily
Buckingham Library
Verney Close MK18 1JP
LIB-BUC@buckscc.gov.uk
10am-7pm Tue 10am-5pm Wed-Fri 10am-2pm Sat
The Centre
Verney Close Buckingham
10am-noon Mon-Thu
Buckingham Art School
Stowe Castle Business Park MK18 5AB
www.buckinghamartschool.com
To view contact buc.artsch@btinternet.com
Frame Art Display
4 Old Forge Close Tingewick MK18 4RH
www.pictureframerinbuckingham.co.uk
To view ring 01280 847 444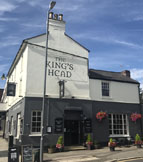 The King's Head Coffee and Gin Bar
7 Market Hill MK18 1JX
www.thekingsheadcoffeebar.com
Open daily from 10am
Lace Hill Sports & Community Centre
Catchpin St MK18 7RR
Lace Hill Sports & Community Centre
9am-3pm Mon-Fri and other rimes depending on activities
Buckingham University Bookshop
Vinson Building, Hunter Street, MK18 1EG
www.buckingham.ac.uk/life/facilities/bookshop
9.30am-5pm Mon-Fri Closed Sat Sun
Innata Chiropractic
20 Market Hill, MK18 1JX
Innata Chiropractic
To view ring 07834 762024